Get your copy today!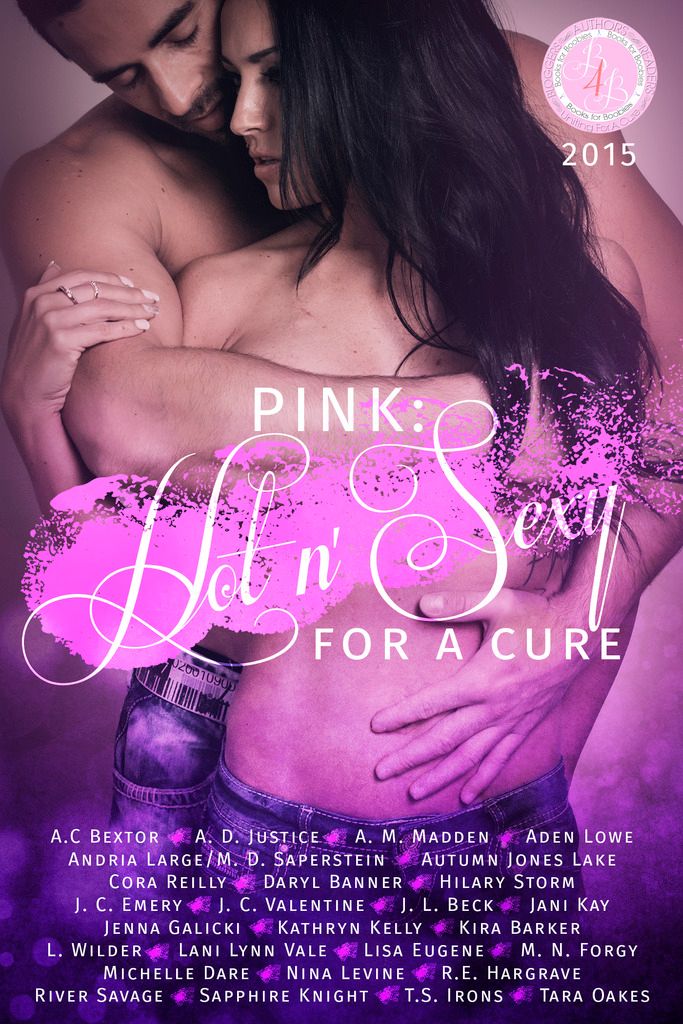 Join 28 of today's hottest romance authors as they introduce you to their most memorable and beloved characters in an all-new, exclusive, scorching scene. All proceeds of this year's anthology will be donated to The National Breast Cancer Foundation, to help support women in need of mammograms. The participating authors include:
AM Madden
A.C Bextor
A.D. Justice
Aden Lowe
Andria Large/M.D Saperstein
Autumn Jones Lake
Riley, Daryl Banner
Hilary Storm
J.C. Emery
J.C. Valentine
J.L. Beck
Jani Kay
Jenna Galicki
Kathryn Kelly
Kira Barker
L. Wilder
Lani Lynn Vale
Lisa Eugene
M.N. Forgy
Michelle Dare
Nina Levine
R.E. Hargrave
River Savage
Sapphire Knight
T.S. Irons
Tara Oakes
B&N | Kobo | Amazon US | Amazon UK | Amazon Australia | Itunes Add Pink: Hot N' Sexy for the Cure on Goodreads! Like the Books for Boobies Anthology Page on Facebook: https://www.facebook.com/Booksforboobies?fref=ts And join the release event on Facebook on October 10th for giveaways and takeovers by some amazing authors! You can join here: https://www.facebook.com/events/848802388568135/
5 Boobies Stars! can I say Boobies? Just did! TWICE
This Anthology is very near and dear to my heart. My daughter had Hodgkin's Lymphoma Cancer, yea it's not breast cancer, but still, my heart goes out to women everywhere with it. I can only imagine their struggles, but I have been through a lot of what they go through with my daughter and just women having cancer and receiving chemo, radiation, and so on, causes them to stunt their growth, have patches of bald spots on their head, can't get pregnant, any many, many more. So to add to it being breast cancer, is heart breaking to me. Be strong ladies and fight!
Now, on to the Hot n' Sexy for a Cure Review you all came here for!
These amazing authors created a
buffet
meal
of
various
H
ot n' Sexy Romances!
Meaning, they gave us a little of everything to enjoy, including a wheelchair accessible stall in the airport restrooms... Wonder what went on in there? (That one was for my favorite author "Jenna Galiki")
These authors came in blazing!
Rock Stars, fighters, firemen, you name, this books got it.
You won't want to miss this Hot n' Sexy ride.
One click now, and help the National Breast Cancer Foundation. 100% of all proceeds raised go to helping woman receive mammograms. Please support this wonderful cause by reading this Hot n' Sexy anthology.
Together we can raise awareness for a good cause.
I received this Anthology ARC in exchange for an honest review.
Laura Redmon